Automated Design Systems Newsletters
---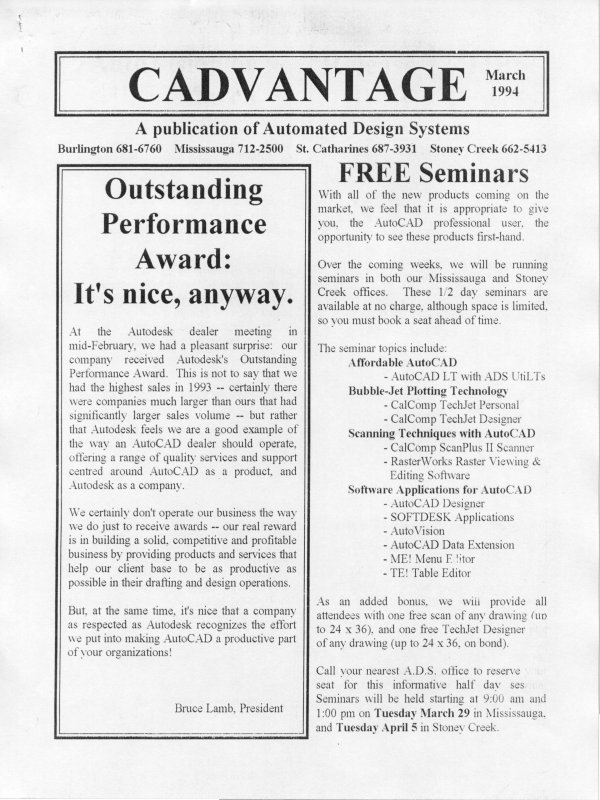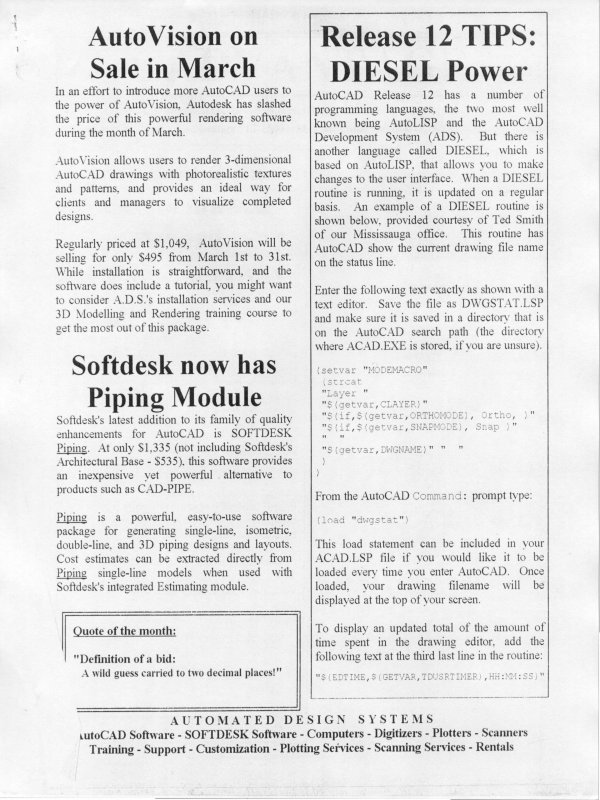 The tidal wave builds…
I've noticed a trend in the past couple of months
with two Autodesk products that are steadily
maturing: Architectural Desktop and Autodesk
Inventor. The level of interest in these two
products seems to be growing exponentially all
of a sudden – despite the fact that they have both
been around for about a year and half.
With the new features in the recently-released
Inventor Release 4 combined with its ability to
handle huge assemblies with ease, more and
more companies are looking to Inventor as their
new standard in the mid-priced solid modeling
market. Some of the huge wins that Autodesk
has had with this product include Groupe
Schneider/Square D, Corning and Parker
Hannifin -- each including several hundred
seats of Inventor and worth several million
dollars.
And the architectural community has finally
started to embrace Architectural Desktop on a
large scale. They can see the substantial
productivity improvements in ADT are worth
the price – to the extent that generic CAD
programs like AutoCAD LT don't make sense
for a production architectural design department.
One architect I spoke with recently couldn't
believe what her draftsperson had put together
in just a couple of hours with their upgrade from
AutoCAD to Architectural Desktop.
It is my sense that with both of these products,
the tidal wave of support is gaining momentum.
And there is no doubt in my mind that the fast
pace of development will continue, so there will
be lots of new productive features to look
forward to in the future.
If you haven't seen the latest releases of
Inventor or Architectural Desktop, you owe it to
yourself to check out one of our seminars later
this month.